EYE DESIGNER PENCIL
0.35g
An auto pencil type eyeliner with a creamy texture and rich colors
DETAILS
9 colors of creamy texture
9 fascinating colors and two different textures for a colorful, alluring eyeliner look.
Simple and slim auto pencil
The sharpener inside the slim eyeliner body ensures the easy drawing of delicate lines anywhere and anytime.
Waterproof for a long-lasting makeup look
Instantly blends in with the skin and stays put without smudging.
HOW TO
HOW TO
- Draw lines along the eyes, filling in the gaps between the lashes.
TIP
- Draw lines and wait for 5 seconds to dry. This will help them stay put and last longer.
APPLICATION
- Use your fingers or a cotton swab to blend colors to add depth.
- Use two or more colors to create a colorful, sophisticated look.
MORE DETAILS
Shelf Life
Use within 12 months of opening.
Cautions
Keep the product at 10–30ºC away from direct sunlight.
3 TYPE EYELINER
Assess your makeup skill and product's level of smudging to pick the right eyeliner for you.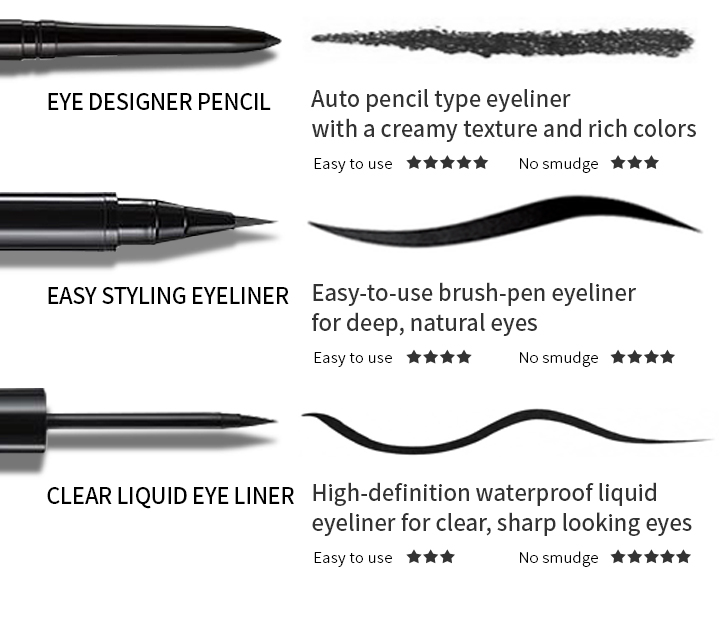 YOU MAY ALSO LOVE
Check other HERA products
that work better together.