SIGNIA LUMINESOURCE
RADIANCE FIRMING SERUM
40ml
Anti-aging serum with 2.4 million narcissus plant cells to give skin firmness and radiance
Skin brightening
all skin types
day/night
DETAILS
2.4 million narcissus plant cells to awaken the energy within the skin
2.4 million narcissus plant cells with enduring vitality to boost the skin's natural fundamental strength.
Combining three naturally glowing gems and Cell Bio Technology, Golden PeptideTM purifies aged, dull and stiff skin while simultaneously improving the skin's firmness to make it look supple giving it a glow that comes from within.
* Significant improvement observed in 10 items including skin's firmness and clarity after six weeks of using LUMINESOURCE.
Supple and clear skin with the radiance of 3 gems
The secret of ancient queens found in the 3 gems
With extracts of three shining jewels - diamonds of Mughal queens, gold favored by Cleopatra and black pearls
from the ocean, LUMINESOURCE brings back a natural dewy glow to the skin.
Golden Liquid Formula that gets absorbed quickly and deeply
Golden Liquid Formula with pure Narcissus WaterTM extracted through a refinement process and drops of pure gold
The rich texture wraps the skin without any feeling of stickiness and penetrates the skin quickly and deeply to leave it feeling moisturized and refreshed.
HOW TO
Jewel Core Zone care with SIGNIA LUMINESOURCE
- Pump 1-2 times after WATER in morning and at night and gently apply across the face.
- Massage as described below to take care of 10 points across the Jewel Core Zone for extra firming and glow.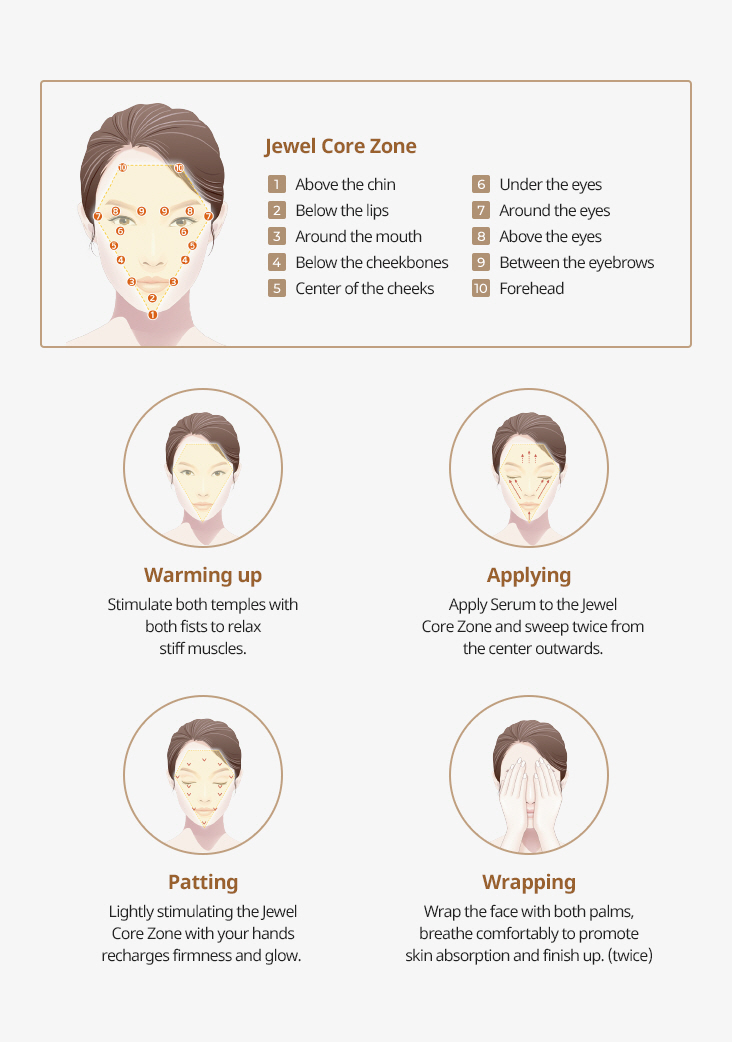 Jewel Core Zone ① Above the chin ② Below the lips ③ Around the mouth ④ Below the cheekbones ⑤ Center of the cheeks ⑥ Under the eyes ⑦ Around the eyes ⑧ Above the eyes ⑨ Between the eyebrows ⑩ Forehead
Warming up : Stimulate both temples with both fists to relax stiff muscles. Applying : Apply Serum to the Jewel Core Zone and sweep twice from the center outwards. Patting : Lightly stimulating the Jewel Core Zone with your hands recharges firmness and glow. Wrapping : Wrap the face with both palms, breathe comfortably to promote skin absorption and finish up. (twice)
MORE DETAILS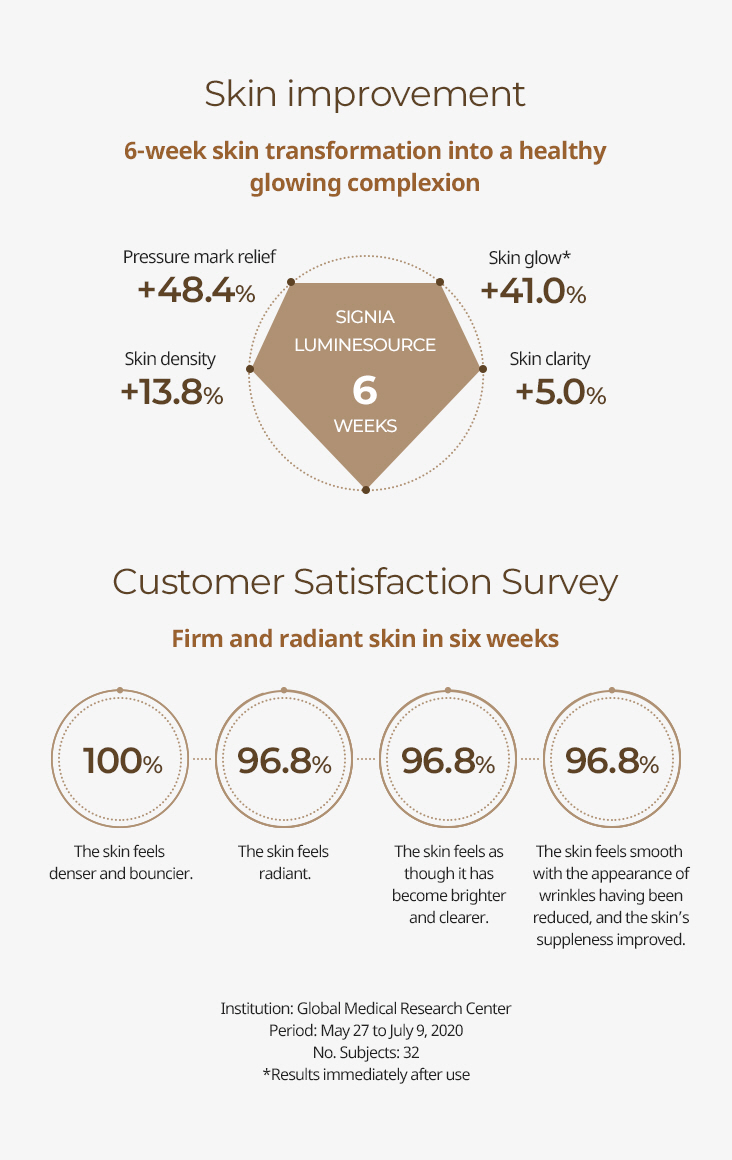 Skin improvement 6-week skin transformation into a healthy glowing complexion SIGNIA LUMINESOURCE 6WEEKS Pressure mark relief +48.4% Skin clarity +13.8% Skin glow* +41.0% Skin density +5.0%
Customer Satisfaction Survey Firm and radiant skin in six weeks The skin feels denser and bouncier. 100% The skin feels radiant. 96.8% The skin feels as though it has become brighter and clearer. 96.8% The skin feels smooth with the appearance of wrinkles having been reduced, and the skin's suppleness improved. 96.8% Institution: Global Medical Research Center Period: May 27 to July 9, 2020 No. Subjects: 32 *Results immediately after use
Shelf Life
Use within 12 months of opening.
Precautions
If symptoms such as red blotches, swelling, itchiness or irritation appear while using the product and/or when the skin is exposed to direct sunlight after using it, please consult a dermatologist.
Do not use the product on any scars or area of irritation.
Precautions for storage and handling

Keep in between 10-30℃ and avoid direct sunlight.
Keep the product out of the reach of children.
Keep the product out of direct sunlight.
YOU MAY ALSO LOVE
Check other HERA products
that work better together.