SIGNIA CREAM
NARCISSUS BEAUTY
60ml
The total anti-aging care cream makes skin blossom with youthfulness with the powerful vitality of 3 million Narcissus Plant Cells
Skin brightening
all skin types
day/night
DETAILS
Narcissus plant cells for smooth and supple beautiful skin
HERA SIGNIA CREAM is the fruit of Amorepacific's 50 years of research into plant cells. Three million narcissus plant cells are put into one jar of cream. Restore the natural health and beauty of your skin through its remarkable skin improving effect.
Falling in love with your beautiful younger-looking skin
With rich and smooth melt-in texture along with the delicate scent of narcissus, it lends suppleness to the skin and keeps it smooth and moisturized. See how your skin can bloom again with youth.
Skin improving effect of anti-aging SIGNIA CREAM
SIGNIA CREAM treats the signs of skin aging to give significant improvements to the skin.
HOW TO
HOW TO SIGNIA Narcissism skincare technique
Put an adequate amount on both cheeks, chin and forehead at the cream step of your basic skincare routine in the morning and at night, gently apply it from the center of the face outward and massage the face as described below:
Put both thumbs under the jawbone and pull the face toward the ears.
Pull the corners of your mouth upward, smile to yourself in the mirror and then press the corners with your thumbs for five seconds as if you're pressing the upper gums.
Put both thumbs under the cheekbones, press and pull upward like you're pushing the bones up. Move your thumbs inside and out to massage the entire cheekbone area.
Press the innermost corner of the eyebrows with your index and middle fingers, divide them into three parts depending on the shape of your eyebrows and then massage each part. Massage each entire eyebrow to smoothen out wrinkles between them.
Gently sweep the skin from the innermost corner of the eyebrows to the forehead, stretch the fingers and then massage along the forehead lines.
*Use: 0.5ml (the size of ginkgo nut)
MORE DETAILS
Customer satisfaction survey
Skin improvement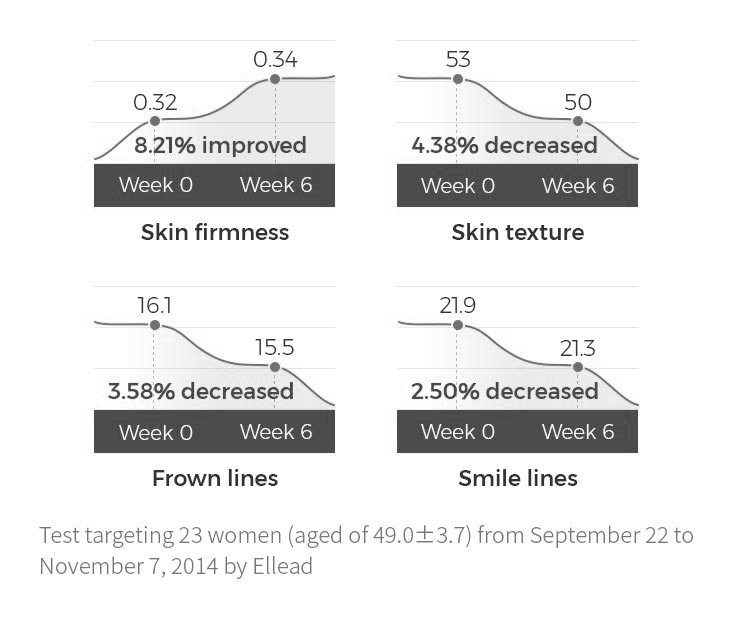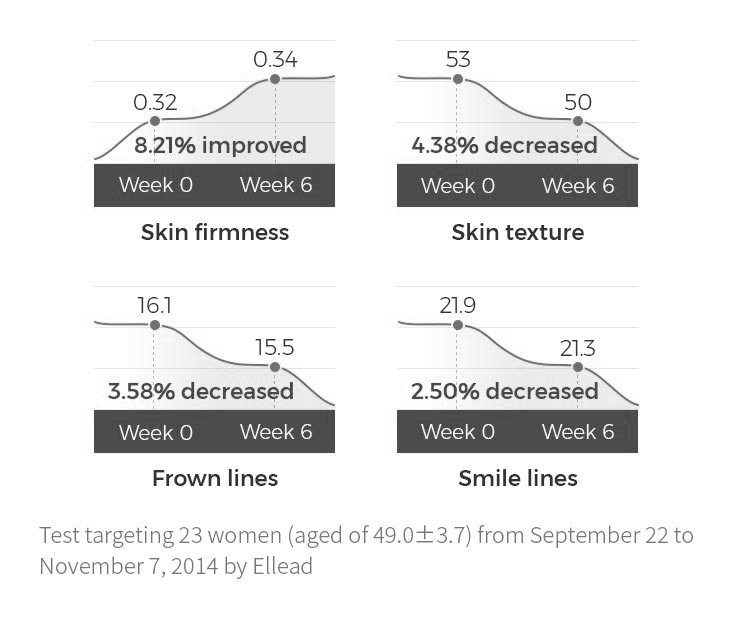 Shelf Life
Use within 12 months of opening.
Cautions
Keep the product at 10–30ºC away from direct sunlight.
YOU MAY ALSO LOVE
Check other HERA products
that work better together.