ROUGE HOLIC MATTE
3g
New classic matte lipstick offering a smooth texture and richly pigmented color with a comfortable feel
PICK YOUR COLOR
Color spectrum, primarily in the medium saturation tailored for the skin tone of Korean women
Check the iconic shades of HERA reinterpreted for the lifestyles of Korean women.
DETAILS
Unfading Look
The texture blends in with the lips smoothly and sets to a comfortable matte finish
The texture is light weighted and yet blends in with the lips seamlessly to give a rich color that lasts for eight hours.
Completely Breathable Texture
The soft texture gives a warm hug to the lips and blends in elegantly for a lasting comfortable feel.
Flowing Movement
Slides on comfortably for a perfect look at all times
Regardless of the condition of the lips, surprisingly smooth FLOWING MOVEMENT offering richly colored moments for the lips.
HOW TO
Apply lightly from the inner area of the lips then smudge for a natural look, or, fill out the lips for vivid full lip makeup.
MORE DETAILS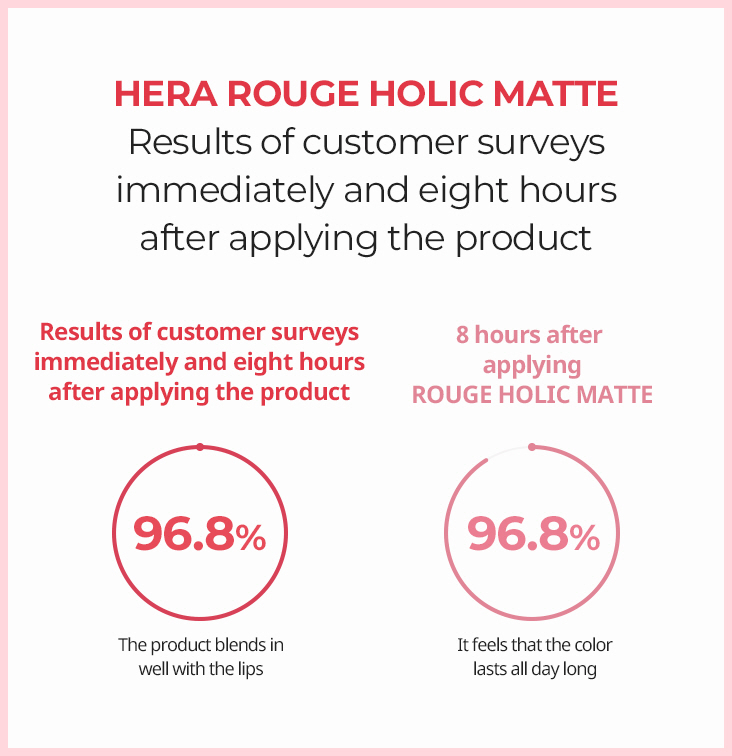 HERA ROUGE HOLIC MATTE Results of customer surveys immediately and eight hours after applying the product
Immediately after applying ROUGE HOLIC MATTE

96.8% : The product blends in well with the lips

8 hours after applying ROUGE HOLIC MATTE

96.8% : It feels that the color lasts all day long
Survey results and measurements of the feel and 8-hour lasting color of HERA ROUGE HOLIC MATTE
Subjects: 30 women aged between 50 and 69 / Institution: I.E.C KOREA
Period: October 26 to 29, 2020
Period of use
36 months from the date of manufacture and 18 months after opening
Precautions for use
Do not use the product for purposes other than lip makeup.
Do not keep the product at high/low temperatures or in any area exposed to direct sunlight.
Stop using the product if any abnormal symptoms occur.