CREAMY CLEANSING FOAM
200g
Moisturizing cleansing foam with trehalose, featuring a rich, soft lather that clears away all impurities from inside the pores
DETAILS
Double synergy from soothing & moisturizing ingredients. Facial cleanser with a dewy finish
The blend of green tea lactobacillus ferment lysate and trehalose moisturizes skin and helps your skin to build a healthier barrier.
IO-Wash System and cationic polymer to clear out particulate matter from inside pores
The cleansing system by cationic polymer forms a complex with particulate matters to remove them from inside pores.
Sensory pleasure from ultimate density and soft micro foam
HERA's ice cream foaming technology creates a densely structured, creamy micro foam to give sensory pleasure with its extreme softness.
HOW TO
Dispense the formula onto a palm then add a couple drops of water.
Gently work the hands as if mixing with air to build up a dense, creamy lather..
Massage the whole face with the lather.
Rinse off thoroughly with lukewarm water.
How to make creamy foam


MORE DETAILS
Customer Survey Results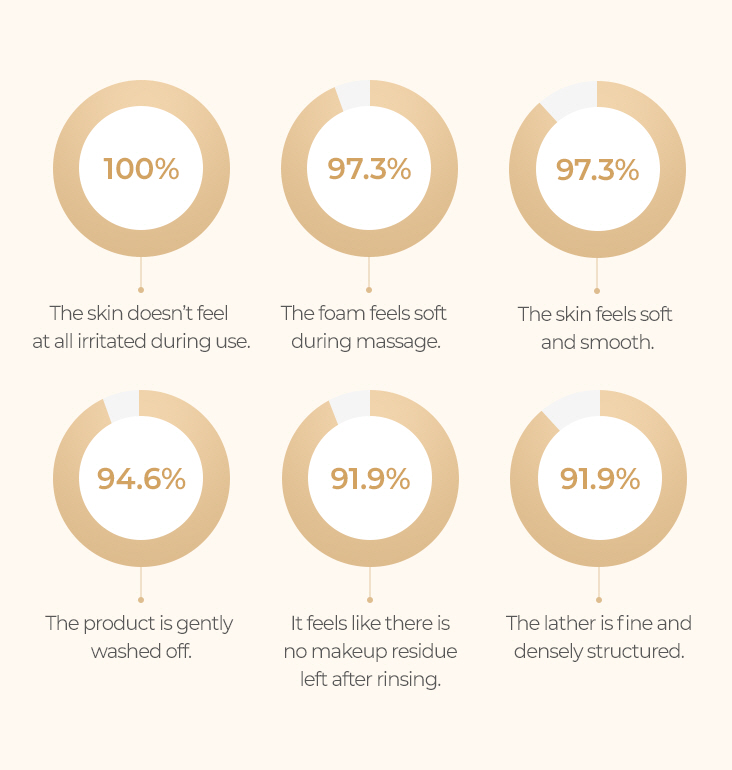 Testing institution: Beauty Link Partners
Period: March 15–21, 2021 (Results from 7 days of use)
Target: 37 women aged 25–29
CREAMY CLEANSING FOAM Cleansing Ability

Free of 6 harmful ingredients
Animal ingredients * mineral oil * imidazolidinyl urea * triethanolamine * synthetic pigment * sulfate surfactant
Alternative eye irritation tested
Green citrus floral fragrance
delivering the benefits of aromatherapy
Green citrus floral fragrance will remind you of a garden in May,
adding a refreshing sensation to the cleansing ritual.
Low allergen fragrance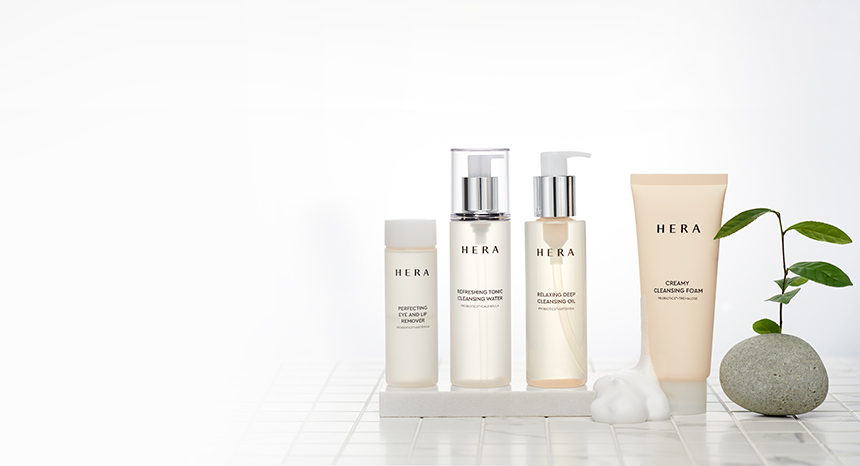 NEW HERA Cleanser

Start a healthy cleansing care
with Microbiome Solution* cleanser.

HERA Microbiome Solution

rebalances skin
with green tea-derived probiotics ferment lysate
to keep it relaxed.
Shelf Life
36 months from the date of manufacture, 12 months after opening
Precautions
If symptoms such as red blotches, swelling, itchiness or irritation appear while using the product and/or when the skin is exposed to direct sunlight after use, consult a dermatologist.
Do not use the product on any wounds or areas of irritation.
Precautions for handling and storing the product

Keep the product out of the reach of children.
Keep the product out of direct sunlight.
In case of contact with eyes, rinse immediately (Remover only)
YOU MAY ALSO LOVE
Check other HERA products
that work better together.